52,000 acres were deeded in trust by the U.S Government to the Agua Caliente Indians in 1876. The Southern Pacific Railroad was also given land at this same time to encourage construction of a line. The tribe received the non-Pacific Railroad owned land. Some of our finest neighborhoods are on Indian lease land and 6,700 acres lay within the city of Palm Springs. Over 29,000 residential properties are located on Indian lease land.
Before purchasing a home here, it is important to understand the differences between Indian Lease Land .vs. Fee Simple Land. With Fee Simple - you own the land, this is what most people are familiar with. With Indian Lease - you lease the land upon which your home sits and you make monthly lease payments to the BIA (Bureau Indian Affairs).
The main advantage of Indian lease land is that you can buy a home for up to 15 - 30% less, than on fee simple land. This is because you are only buying the home and not the land! With Indian lease land the homeowner gets the use of the land without the capital expense – and can afford a far more lavish home for less money.
Most leases still have numerous years left. They are usually renewed long before they are close to expiration. Leases usually run around $1,200 – $5,000 a year. All depends on the property location, with most payments due monthly. Also several leases have built in escalation clauses while others use the CPI Index. Most leases limit the increases to 15% over a 5 year period. Leases are normally adjusted every 5 years in 5 year increments.
4 very important things to keep in mind:
Lease Term – What is the length of the lease period – varies by property.
Lease Rent – The amount paid for use of the land.
Fixed Period – The time period in which the lease amount is locked in.
Expiration Date – The date the lease ends.
FAQ – Frequently Asked Questions
Will the value of my home climb faster if I own the land?
Answer – Many factors determine resale values. All recent figures indicate that sales on leased land have climbed at close to the same percentage as fee simple, in our local cities.
Can I pass a leasehold estate home to my children or spouse.
Answer – Yes, you can give or sell your home on leased land just as easily as on fee land.
Lenders are somewhat hesitant to grant mortgages, unless the lease on which the house stands has a lease term of 5 years longer than the term of the mortgage loan. Meaning a 35 year lease is required for a 30 year mortgage loan. Or a 20 year lease for a 15 year loan. If you are purchasing a home on Lease Land and require a mortgage loan, it is crucial that you obtain your loan locally with lenders familiar with the terms/conditions of Lease Land contracts. Working with a lender who is unfamiliar with this will cause extensive delays and expenses during the escrow process. Our company works with a few of the best in town so please contact us.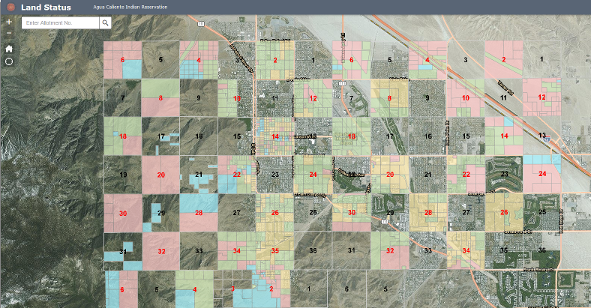 Click on Map for Coachella Valley Indian Leased/Fee Simple Land Locations
We love helping and answering any real estate question. Various people have inconsistent stories regarding owning leased land, that's where we come in. With our expert guidance, research, information and experience, you will feel secure and comfortable with the end decision.
For more information on Indian Lease Land please read this article - A history of Indian Lease Land.
Before you get into a transaction on Indian lease land, you should read and review all contracts, leases and information about the specific lease as all leases are unique. We recommend you consult with your accountant, attorney and tax advisor prior to making any purchases on lease or fee simple land.
All information in this website is protected by intellectual property laws, including but not limited to trademark and copyright laws. Content on this site including text, images, logos, trademarks, information, and the look and feel of the site is owned by Real Estate Rancho Mirage. This site may not be reproduced or distributed in any manner. Copyright and trademark infringement is a violation of federal law and will result in legal action with criminal and civil penalties.